BUBBI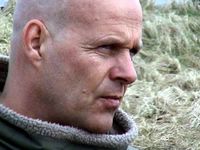 Bubbi Morthens: Born in Reykjavik in 1956, Ásbjörn "Bubbi" Morthens moved with his mother to Denmark at the age of 13. After failing to school he returned to Iceland and took up work in the fish factories. However, after becoming interested in the music of Woody Guthrie and Leadbelly, Bubbi went on to become one of Iceland's best-loved musicians, both as a member of the group "Utangardsmenn" (The Outsiders) and as a solo artist.
More about interesting Icelanders on:
BEYOND NORTHERN IRAQ: mail2bni@yahoo.co.uk
Here is a
link
to some of Bubbi´s music. All his songs are in Icelandic.