This is an offer I got in my e-mail inbox tody. Got the idea to post it on here on my blog, if it should be of interst to anyone.
I was in Vestman Islands once for three days and never on the festival, but it´s supposed to be
hilarious, as well as boisterous and rowdy!
:
Domestic Air offers flights to Þjóðhátíð (Thjodhatid) in Vestmannaeyjar 2005:
Flights between Reykjavík and Vestmannaeyjar only ISK 5.750.-/€ 73/ $ 87 one way with Domestic Air. Bookable at
Air Iceland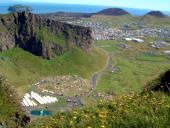 Herjólfsdalur


Festival in the Westman Islands
Held the first weekend in August (July 29th-August 1st).
The festival
has been held every year since 1874 when
the islands inhabitants
were weather-bound and unable to reach the mainland to celebrate
Iceland´s 1000 years of settlement. They didn´t give up but held
their own festival instead. Today the festival is a large event with
many attractions. Many of Iceland´s most popular bands perform.
There are impressive firework displays, a huge bonfire and a
communal sing-along. It is common for guests to sing and party
till dawn. Source: Westman Island´s Homepage.
Festival price ISK 9.900./€ 108/ $ 128 - (Presale ISK 8.500.-/€ 126/$ 150)
More information
Air Iceland
In the Mood!

* * *
* Life goes on *
* * *